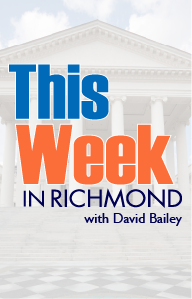 Visit This Week in Richmond on Facebook!
Get the latest information about This Week in Richmond. Visit…
Tune in for the latest Richmond News from host David Bailey and Virginia Elected officials.
This Week in Richmond, hosted by Virginia Capitol veteran David Bailey, is the only weekly TV series about Virginia politics and issues. The series features discussions with Virginia newsmakers, including elected officials and top administrators. Many episodes originate from the Capitol in Richmond, with the rest from the Blue Ridge PBS studio in Roanoke.
Schedule
Blue Ridge PBS -WBRA (Roanoke, Lynchburg) – Fridays at 7:30 p.m. and repeating Tuesdays at 7 p.m.
WCVE 23.1 (Richmond) Sundays at 9 a.m.
WHTJ 41.1 (Charlottesville) Sundays at 9 a.m.
WVPT (Harrisonburg) Tuesdays at 5 p.m.
WHRO – World (Norfolk) Tuesdays at 5 p.m. and Thursdays at 5:30 p.m.
Norfolk's Neighborhood Network, TV-48 – Sunday thru Thursday 12 noon & Wednesday thru Saturday 7:30 a.m.
Underwriters
Click on the underwriters' logos to visit their websites. Links will open in a new window or tab.
Additional support is provided by:
M. E. Marty Hall, Jr.
Sandra C. Davis
Elizabeth F. Newton
First Sentinel Bank
Nuckolls Drug, Hillsville
Virginia State Firefighters Association
The Members of Blue Ridge PBS
Information
The links below provide more information.
This Week in Richmond
Blue Ridge PBS