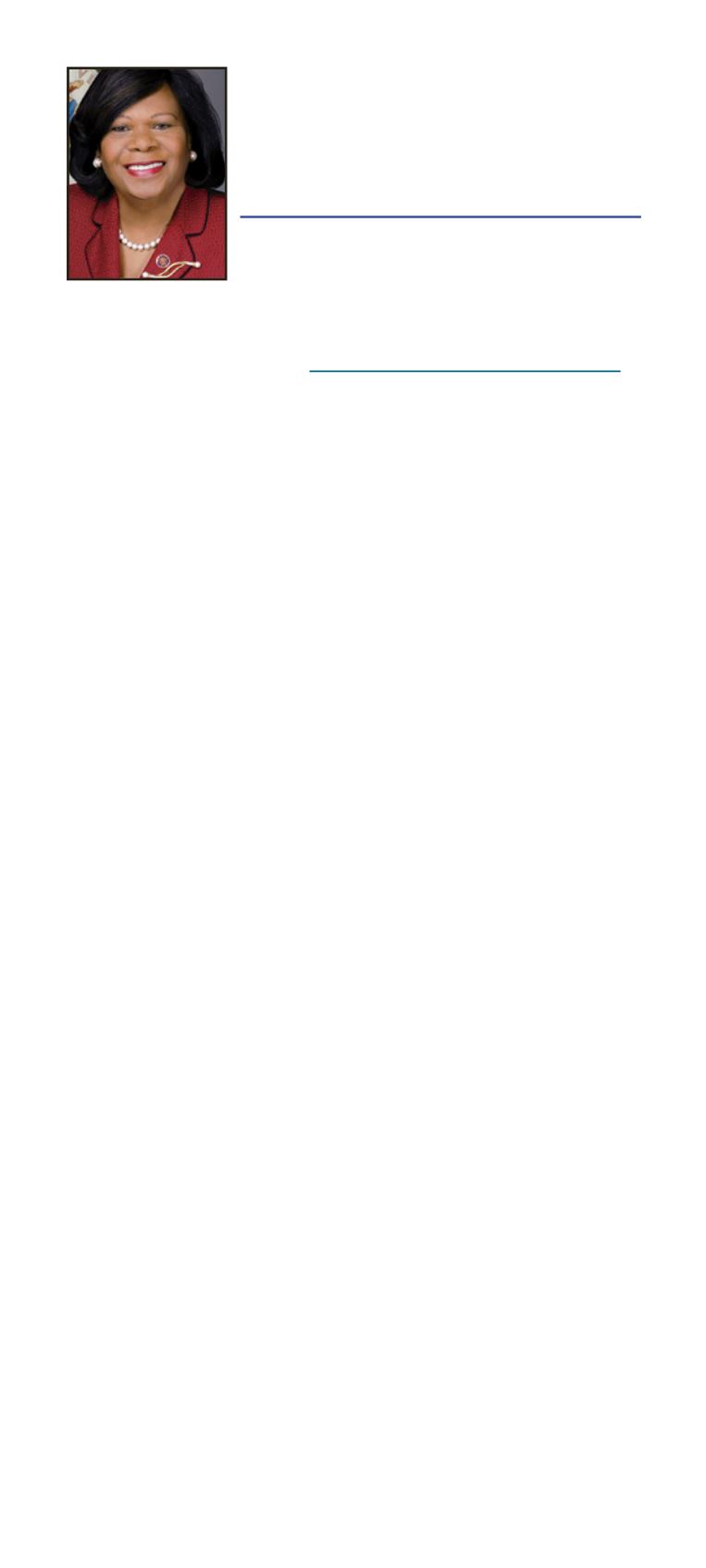 4
Petersburg, Hopewell; Part of Chesterfield,
Dinwiddie, Prince George and Richmond City
Capitol 804.698.7516 •
district16@senate.virginia.gov
P.O. Box 2584 • Petersburg, VA 23804
P 804.862.2922 • F 804.862.1611
LA: Niyah White
Personal Information
Birthday:
February 10
Place of Birth:
Chesterfield, VA
Religion:
Baptist
Spouse:
Nathaniel
Children:
Nathaniel, Tanya
Membership & Affiliations:
Board of Directors for the United Way of Greater
Richmond and Petersburg
Co-Chair of the Virginia State University Agriculture
Council Advisory Board
Member of the SunTrust Bank Regional Advisory Board
Columbia Gas of Virginia Warm-Wise Advisory
Committee
John Tyler Community College Foundation Board
Virginia Sexual and Domestic Violence Action Alliance,
Honorary Regional Chair
Honorary Board Member of The James House and
currently serves on the Board of Directors of the
Southside area Y.M.C.A.
Vice Chair of the Petersburg Democratic Committee
Member of the Third Congressional District Democratic
Committee
Member of Chapter 33 Order of the Eastern Star of VA,
PHA
Petersburg Alumnae Chapter of Delta Sigma Theta
Sorority, Inc.
The Petersburg Links, Inc.
Past President of the Petersburg Breakfast Rotary Club
Education:
John Tyler Community College (A.D., Nursing,1975)
Virginia State University (B.S., Nursing,1986)
Virginia Commonwealth University (M.P.A., 1994)
Elected State/Local Office:
Mayor of Petersburg, 1992-2005
Virginia House of Delegates, 2005-2015
Profession/Occupation:
Health Care Administrator and Registered Nurse (retired)
Dance, Rosalyn R.
(
D
-16th)